NEW YORK – May 2, 2023 – Small business filings, captured as subchapter V elections within Chapter 11, increased 81 percent to 158 in April 2023 from 87 in April 2022, according to Epiq Bankruptcy, the leading provider of U.S. bankruptcy filing data.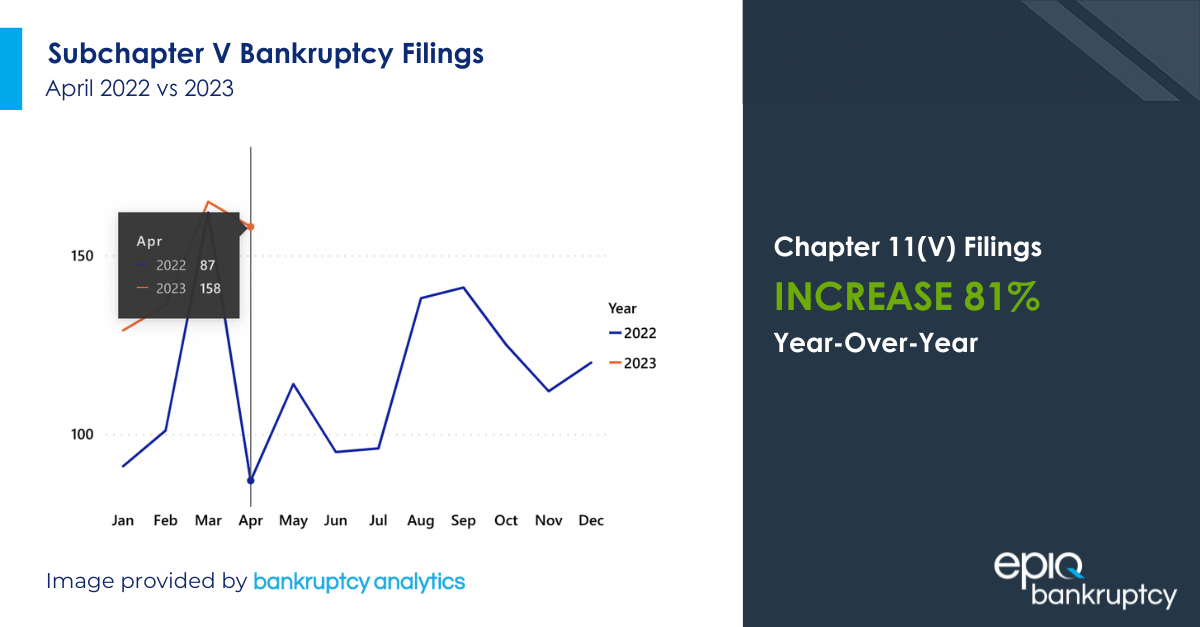 All Chapter 11 filings increased 32 percent in April 2023 to 277 from the 210 filings in April 2022. Overall commercial filings increased slightly in April 2023 to 1,820 from 1,785 in April 2022.
The 35,479 total U.S. bankruptcy filings in April 2023 were a nine percent increase from the April 2022 total of 32,530. Individual bankruptcy filings were 33,659 in April 2023, registering a 10 percent increase from the April 2022 individual total of 30,745. The number of individuals filing for Chapter 13 increased 14 percent to 13,404 in April 2023 from the 11,730 Chapter 13 filings in April 2022.
The substantial year-over-year increase in subchapter V elections reflects statutory developments that took place last year. The $7.5 million debt eligibility limit established by the CARES Act of 2020 (and renewed annually by subsequent laws) sunset in late March 2022 back to the $2,725,625 level established by the Small Business Reorganization Act of 2019, which led to a drop in subchapter V elections in April and May 2022.
The Bankruptcy Threshold Adjustment and Technical Corrections Act was quickly enacted in June 2022 to restore the debt eligibility limit for small businesses back to $7.5 million while also increasing the debt limit for individual Chapter 13 filings to $2.75 million and removing the distinction between secured and unsecured debt for that calculation. The increased eligibility limits for both subchapter V and Chapter 13 are currently set to sunset on June 21, 2024. ABI has formed a Subchapter V Task Force to study small business reorganizations and make recommendations in a report to be released in April 2024.
"As small businesses employ millions of Americans and individual spending is a key driver of our economy, maintaining an established path to reorganizing debts in bankruptcy is key," said ABI Executive Director Amy Quackenboss. "I look forward to the work of ABI's Subchapter V Task Force in identifying ways we can improve eligibility for a financial fresh start for businesses and individuals."
April's total bankruptcy filings represented decreases in all filing categories from the previous month. Total filings were down nine percent when compared to the 39,056 total filings recorded the previous month. Total individual filings for April also represented a ten percent decrease from the March 2023 individual filing total of 36,881. The commercial filing total represented a 16 percent drop from the March 2023 commercial filing total of 1820. All Chapter 11 filings decreased 28 percent from the 434 filings recorded in March 2023. Subchapter V elections within Chapter 11 decreased 5 percent from 165 the previous month, and individual Chapter 13 filings decreased seven percent from the 14,403 filings reported in March 2023.
For the first time since April and May of 2019 there were back-to-back months with more new cases filed than cases closed per month. In April 2023, 3,861 more cases opened than closed and in March, 4,540 more opened.
"We have also been closely tracking the monthly number of new cases versus closed cases trend as another indicator on where the new filing market is heading," said Gregg Morin, Vice President of Business Development and Revenue for Epiq Bankruptcy. "The last time there were four consecutive months in a row of more new cases was back in early 2012 and the last time there was an annual positive delta was 2010."
ABI has partnered with Epiq Bankruptcy to provide the most current bankruptcy filing data for analysts, researchers, and members of the news media. Epiq Bankruptcy is the leading provider of data, technology, and services for companies operating in the business of bankruptcy. Its new Bankruptcy Analytics subscription service provides on-demand access to the industry's most dynamic bankruptcy data, updated daily. Learn more at https://bankruptcy.epiqglobal.com/analytics.
About Epiq
Epiq, a global technology-enabled services leader to the legal industry and corporations, takes on large-scale, increasingly complex tasks for corporate counsel, law firms, and business professionals with efficiency, clarity, and confidence. Clients rely on Epiq to streamline the administration of business operations, class action, and mass tort, court reporting, eDiscovery, regulatory, compliance, restructuring, and bankruptcy matters. Epiq subject-matter experts and technologies create efficiency through expertise and deliver confidence to high-performing clients around the world. Learn more at www.epiqglobal.com.
About ABI
ABI is the largest multi-disciplinary, nonpartisan organization dedicated to research and education on matters related to insolvency. ABI was founded in 1982 to provide Congress and the public with unbiased analysis of bankruptcy issues. The ABI membership includes nearly 10,000 attorneys, accountants, bankers, judges, professors, lenders, turnaround specialists and other bankruptcy professionals, providing a forum for the exchange of ideas and information. For additional information on ABI, visit www.abi.org. For additional conference information, visit http://www.abi.org/calendar-of-events.