Now that NACTT 2021 is in our rearview mirror and the Epiq Bankruptcy team is back home, we reflected as a team on important takeaways that impact both our Chapter 13 trustee and loan servicing customers.
The conference was held in-person in Washington, D.C. from Tuesday, July 6 to Saturday, July 10. Everyone was happy to see new and old acquaintances in real life, even if they had to give up their usual work attire of sweatpants and t-shirt for a week. We were pleased to meet newly appointed trustees over the past year and other attendees looking to know how we can help their business.
Looking ahead to the future
While glad to be out of their home, the Epiq Trustee Services' clients we spoke with were concerned with low bankruptcy filings and how continued COVID challenges will impact a return to office and to court in January. They do want to return to conducting 341 meetings with debtors in-person, but this is complicated by the fact that the virus is still spreading. If in-person meetings do occur, our trustees are supported by Epiq CPMobile's (Case Power Mobile) ability to download case data and take it with them.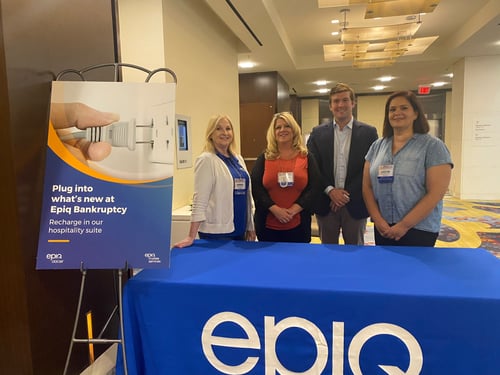 Our trustee clients were also interested in hearing about the progress we're making with Court Data Exchange, which is replacing our legacy ECF. This tool will allow for importing form data, timely document delivery to trustees, processing claim requests within all districts, easy automated catch-up process on dockets and claims, and one-click filing to courts.
Uncertainty in new bankruptcy filing volume was also on the mind of Epiq AACER's loan servicing clients. Customers who service bankruptcies are continuously evaluating the current market trends, timings on forbearances, moratoriums and government subsidies to project the forthcoming new bankruptcy volumes. The consensus among bankruptcy servicing clients is that volumes will start to increase in the fourth quarter, impacting support requirements on all aspects of the bankruptcy lifecycle.
Plug into what we're doing
While new bankruptcy volumes are at historical lows, many organizations have been leveraging this time to revamp tools and improve servicing efficiencies. Epiq Bankruptcy has taken this time to enhance existing services and launch several new products and services. As an NACTT sponsor, we hosted a hospitality suite at the conference where attendees could get plugged into what's new and recharge themselves and their devices.
Trustee Services demoed new Case Power 14 features to clients who hadn't had the opportunity to see them, answered questions and provided training. For example, one client wanted to know how to better leverage advanced filters and parameters, when running a Delinquency Analysis, to exclude cases that have a motion to dismiss. Our team is always willing to help trustees to get the most out of our Case Power case management software.
Trustee Services also showcased its new print and mail outsourcing tool, Notify. Using this online tool, anyone can upload a variety of documents, print to any size output and mail. Epiq's state-of-the-art print and mail facilities in Beaverton, Oregon and Memphis, Tennessee handle millions of mailings daily. The facilities also deliver full telephonic communication, email support and capacity for hundreds of agents, at multiple locations, to handle tens of thousands of calls each day.
Meanwhile, Epiq AACER demonstrated the AACER platform for supporting and automating bankruptcy servicing and previewed some new exciting technology to attendees.